Previously, we wrote about some best affiliate programs that content publishers can use to monetise their content while promoting advertiser's (or merchants') offerings. In this article, we are going to discuss from the advertiser's perspective instead. That is, we will discuss some top affiliate marketing platforms which advertisers with some offerings like yourself could use to reach out to publishers and have them promote to their channels.
The world wide web is huge, and yet you had stumbled on my site looking for something. I hope you find it as we had taken huge efforts to create them. Best of all, its FREE! Hence, some of our content may include affiliate links (i.e. whenever you click on the links and purchase, I earn a small commission at no extra costs to you!). No worries! Some of these links may look like phishing, but I assure you they are not! Lastly, the affiliation does not affect my reviews towards them. Enjoy!
Choosing a suitable affiliate marketing platform is not simple. Often, it comes down to trial and error. However, this article will provide some insights for you to make better decisions prior to committing one. Hopefully, the insights will mean a better head start so that you could begin growing revenue and affiliate network via affiliate marketing. Here we go!
A relatively new company, Affise is founded in 2016, in Vilnius, Lithuania. It is the developer of CPAPI, the first offer-recipient technology in the market. Affise is used by over 100 companies such as iFunny, FxClub, MobUpps, and Zorka.Mobi. Despite being a new player, Affise is fully packed with features and everything needed for successful affiliate marketing. We say, you got to know about this new offering. Read what we got to say.
Key Features
Customisable Rich Interface
Advance Offer-Publisher Technology, CPAPI
Built-In CR Optimisation
Anti-Fraud Protection
Buy Factor
Having a highly customisable interface serves more than personalisation. It also supports branding, and tailoring to needs and wants, while enhancing effectiveness. There are a couple of customisations possible in Affise such as design templates, colours, custom domains, user system, languages, currencies, forms, email notifications, dashboards etc. You do not need to understand what they do at the moment, but just for your information.
CPAPI is Affise's own technology. They developed it to help new advertisers easily migrate over to Affise. Above all, CPAPI provide the technology to seamlessly and quickly bring about new offers and changes to publisher. This means greater collaboration at lesser inconveniences! Advertisers can now focus more on their advertising offers, without worry of hassle and informing each publisher!
CR optimisation means conversion rate optimisation. Affise's CR optimisation tool helps advertisers reach out to their desired publishers based on certain conversion metrics set by the advertisers themselves. So, this means greater value for the advertisers and potentially higher returns in using Affise! Want to know more? Check this Link.
Fraud in online marketing is serious. It accounts for billions lost for companies every year. But Affise's anti-fraud protection offers 12 ways you can do in its system to fight against fraud. It's not hard to set up, but only need a small commitment in time. Nevertheless, here is the full Guide.
Things to Note
There are only 2 plans to choose from with the lowest plan starting from a very uncompetitive price. Nonetheless, the plan is feature-packed and easily one of the top affiliate marketing platforms.
While it is not stated in the pricing plans, there are actually event-based tracking limits. We had found this to be 40k conversions and 15m impressions. Kindly clarify with customer support on this. Furthermore, check on the ad-hoc charges.
Pricing (monthly subscription basis)
Scale (US$ 499/mth) – Performance Tracking, Stats & Reporting, Partner Management, CR Optimisation, Click Protection, Automation Tools, 24/7 Support and Dedicated Account Manager.
Custom – Everything in Scale Plus White Label, Custom Interface, Bulk Data Export, Real-Time Event Delivery, and Full Migration Services.
30-Days Free Trial
Launched in 2014, AffiliateWP is a WordPress plugin. It seamlessly integrates with major WordPress e-commerce and membership plugins to provide a complete affiliate marketing platform. Till date, AffiliateWP had been installed over 2k times! More recently in 2021, it recorded its 1000th payouts to affiliates with US$1m processed! Is your site built with WordPress? In that case, be sure to know AffiliateWP! Read on for what we got to say!
Key Features
Built into WordPress
Full-Features Affiliate Management
Unlimited Affiliates & Tracking
Real-Time Reports
Buy Factor
AffiliateWP is a WordPress plugin. Thus, installation is easy and only takes a few clicks to their WordPress site. Moreover, users will perform everything needed for their affiliate program within their WordPress site itself! Hence, navigating within and picking up this affiliate marketing platforms becomes so much easier in a familiar setting.
Each paid plan offers 18 official add-ons! In addition, Professional plan holders get an additional 15 add-ons! There are just so many features to enable successful affiliate programs and transform your WordPress site like any affiliate marketing platforms. Again, we do not intend to describe all, but only highlight some really essential ones for your information. Affiliate dashboard, affiliate coupon tracking (requires an e-commerce or membership plugin), affiliate creation and approval, referral link generator, referral rate, cookie expiration, email notifications, and data export.
Unlimited affiliate and tracking! We just love it when there are no limits, no? Some affiliate marketing platforms caps tracking, then charges for additional as well. Hence, what you need is a subscription and everything is right there for you to execute your program! No worry about over extending budget!
Well, in this fast-paced business world, we can't say how important having real-time reports are. With AffiliateWP, it enables your swift business decision-making. What more? It's based-on data, so it's in line with or just support your first step to a data-driven decision-making culture!
Things to Note
As AffiliateWP is a WordPress plugin, it is only for sites built on WordPress. Nonetheless, if you are just starting and looking to build a WordPress site, consider these WordPress builders.
Pricing (per year basis)
Personal (US$ 149) – 18 Official Add-Ons, 1 Site, Plugin Updates, Email Support, and Integrated Payouts.
Plus (US$ 199) – Everything in Personal for 3 Sites.
Professional (US$ 299) – Everything in Plus for 10 Sites, plus 15 Pro Add-Ons, and Any Future Add-Ons.
30-Days Moneyback Guarantee
Another US product, LeadDyno is founded in 2014 in California. It boasts an affiliate marketing platform that allow users to setup their affiliate program within minutes. Over the past years, they had successfully tracked over 70m referrals. Furthermore, just in 2020 alone, LeadDyno helped their users to generate over US$200m in affiliate sales! Besides, LeadDyno takes pride in providing prompt customer support! Their average customer service email reply stands at only 1 hour and 19 minutes! Whether you are new or experienced in affiliate marketing, we say you got to know LeadDyno. Find out more about them below.
Key Features
Marketing & Recruitment Automation
Bulk Payment to Affiliates
Multi-Level Marketing (MLM) Possible
Mobile App Version
Buy Factor
In-built marketing and affiliate recruitment tools in LeadDyno supports your revenue generation readily. Set up regular newsletters to your affiliates to keep them updated with the latest, and even what will happen 3 months down the road. Yes! Long-term planning and business go hand-in-hand! Also, use email automation to properly onboard new affiliates, giving them a quick head start to promoting your content. Additionally, spotted a customer that could make your perfect affiliate? Invite him to your program via automated email invitations!
With LeadDyno, you can setup bulk payment to your affiliates. Above all, this can be done via PayPal, a worldwide popular choice! You can set up to pay based on percentage, or fixed amount, and for different affiliates. Simply put, what this does is greater flexibility to support a long-term affiliate relationship that grows your business!
What is better than your affiliates marketing your content, is more affiliates joining your program recruited by your affiliates! This is otherwise the multi-level marketing (MLM) in LeadDyno which supports up to 10 tiers. Set the amount of credit that each tier earns from each. Although this sort of commission model could get complicated fast, it's really effective in incentivising. Thus, supporting your revenue growth via affiliate marketing.
We know how busy things can get and how much to be able to check things on-the-go can help! LeadDyno has its own mobile app version for the affiliates. So, they can use it to track their earnings and quickly generate and share links to their social channels. The affiliates will love it, and all the more reason to join LeadDyno!
Things to Note
Requires integration with another third-party e-commerce software such as Shopify and Woocommerce. There will be costs associated with using these platforms. Hence, factor into your budget prior. That said, LeadDyno is able to integrate with over 25+ software to extent its marketing, CRM, and payment functions.
Pay out to affiliates is by PayPal or Coinbase only. There are no direct transfer or credit card.
Pricing (monthly subscription basis)
Starter (US$ 49/mth) – Up to 3k Unique Visitors, Visitor, Lead & Conversion Tracking. Unlimited Affiliates, Email & Live Chat Support.
Biz Builder (US$ 59/mth) – Same as Starter Except for Up to 4.5k Unique Visitors.
Accelerator (US$ 79/mth) – Everything in Starter for 7.5k Unique Visitors, plus Phone Support.
Rainmaker (US$ 149/mth) – Same as Accelerator Except for Up to 25k Unique Visitors.
Baller (US$ 249/mth) – Same as Accelerator Except for Up to 100k Unique Visitors.
VIP (US$ 349/mth) – Same as Accelerator Except for Up to 500k Unique Visitors.
30-Days Free Trial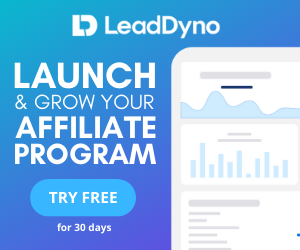 Another company with foundations since 2016, PayKickstart is headquarter-ed in Indiana, USA. Its team of 20 staffs empowers over 3.5k customers worldwide, with affiliate sales amounting to US$1.2bn. Its other business suites include payment, subscription, and billing in addition to affiliate marketing. It is highly rated in review sites such as Capterra, G2, GetApp, and Crozdesk. Even so, PayKickstart is definitely one hot rising star product. If you happen to be looking for payment solutions, now is your chance. Read on.
Key Features
Community of 100k+ Affiliates
Various Methods of Commission Pay-Outs
Lifetime Commission Possible
Create Affiliate Contest
Buy Factor
PayKickstart's very own community of affiliates called Marketplace boasts 100k strong publishers ready to promote. Users can actively look for suitable and powerful affiliates. Alternatively, they can also generate new affiliates on auto-pilot based on certain metrics. Of course, users can also look to promoting their company with a strong profile.
Unlike other affiliate marketing platforms in our list, PayKickstart supports various payment methods. Users can pay out commissions to their affiliates with PayPal, Payoneer, Wire Transfers, and E-Checks. Although there are set ups required, but its only one-time. After the setup, your affiliates would be really happy to be able to receive their well-earned commissions in the methods they prefer!
Most other affiliate marketing platforms offer a commission model based on campaign. That means for affiliates, an affiliate URL link is generated for each promotion for their placement. Any buyers that buy using that link results in a share of commission for that affiliate. As and when the campaign is closed, the affiliate link also becomes invalid and ineligible for commissions. With PayKickstart, lifetime commission is possible on a visitor, or customer basis. Now, your affiliates have even more reason to rejoice, and use PayKickstart!
Managing affiliates and managing a high-performance team is not so much different. They all need some spur and special rewards every now and then! Use Affiliate Contest! Reward your best-performing affiliates of the month to serve as role models for the rest! You can set the contest to be based on the greatest number of sales counts, most total sales, or even number of leads. Then, set the time period. That's all you need! Affiliate marketing can be enjoyable too! Especially with a platform such as PayKickstart!
Things to Note
The pricing plans include overages on the monthly revenue achieved. If you had consistently achieved the monthly limit in the plan, then it might just be more worth it to upgrade to the next tier. In other words, taking a higher tier plan means paying more for subscription, but prevents additional charges in overages.
The lowest plan, Starter, does not include essential Affiliate Centre tools, such as sales and lead tracking, cookieless tracking, instant and delayed commissions, affiliate marketplace and the 2-tier affiliate support. Although, you can still use its mobile app version for a host of other affiliate management features.
Pricing (annual subscription basis)
Starter (US$ 79/mth + 0.9% of Surplus After US$10k) – Subscription Management, & Conversion Tools. Payment Integrations, Pricing Options, Checkout Templates, Reports & Analytics, and Integrations.
Growth (US$ 159/mth + 0.7% of Surplus After US$50k) – Everything in Starter, Plus Customer Retention Tools, Affiliate Center, Dunning Management, Apple Pay & Google Pay, and API & Webhooks.
Scale (US$ 239/mth + 0.5% of Surplus After US$200k) – Everything in Growth, Plus Unlimited Users, Advanced Insights, CRM Integrations, Discounted Gateway Fees, and Priority Support.
14-Days Free Trial
Over 2 decades in affiliate marketing! Operating since 2001, Post Affiliate Pro offers a very comprehensive affiliate marketing platform backed by 2 decades of development. The Slovakia brand is used by more than 27k companies globally. Besides, it integrates readily with over 170 popular CMS and payment software to bring the extra juice to affiliate marketing performance. Based on Trustpilot, G2, and GetApp, Post Affiliate Pro is the number one rated and most reviewed affiliate software! As the saying goes. Old is gold. This one is a 'must know'! So, read on.
Key Features
Huge Range of Promotion Materials
Multiple Commission Types
Comprehensive Reports
Mobile App Version
Buy Factor
Typically, affiliate marketing platforms offers banners and affiliate links. However, with Post Affiliate Pro, users can use more than these 2 types. There are coupon codes (in the form of barcodes and serial number), PDF e-books, replicated sites (i.e. each affiliate get their own sites based off the main ones), and zipped files. These options in promotional materials really help the marketers to A/B test and learn from their campaigns. In affiliate marketing, it is much more than just placing URL links and banners. Trust us when we say this! You will improve as a marketer using Post Affiliate Pro!
With Post Affiliate Pro, you can reward your affiliates with a variety of commission models individually or group. We discussed about MLM and lifetime commissions before, which are both possible. You can of course reward based on CPA. In addition to, there are performance-based (e.g. higher tier your affiliates achieved, the higher commission percentage they receive), recurring commissions (for subscription sales), and split-commission. Split-commission is an interesting one and rewards multiple affiliates, not just the last click that purchase. Users can define who gets how much. But what is most important is that the affiliates, whose promotion had made impact, gets a share. And with this, we feel is a value-add to being an affiliate of your content in Post Affiliate Pro!
As marketers, you want to know how your campaigns work so you can improve. Post Affiliate Pro offers comprehensive report possibilities. They can use it to track their own audit logs, online users' information, map overlay, and trends among the usual banner, affiliate and URL reports. Again, using Post Affiliate Pro means really honing your skills as a Marketer!
We mentioned before about mobile app version. This can only be a plus in this fast-paced world.
Things to Note
The pricing plan provide a certain fixed number of tracking requests every month. Nonetheless, they are charged automatically upon exceed per 10k requests. Thread carefully to prevent running into budget issue.
Features such as recurring commission, site replication and split commission, although useful, are unfortunately not available in the Pro plan. Particularly if you are selling a subscription-based products, you will have to rewards based on CPA or other commission models instead. Similarly, affiliates will not be able to benefit from recurring commissions, which may deter them from signing up.
Pricing (monthly subscription basis)
Pro (US$ 97/mth) – 1M Tracking Requests, Unlimited Affiliates, Reports, Conversion Commissions, & Multiple Currencies. Coupons, ReCaptcha, Lifetime Support, and Updates.
Ultimate (US$ 197/mth) – 5M Tracking Requests, With Everything in Pro, Plus Sale Tracking Codes, Recurring Commissions, Performance Rewards, Split Commissions, Campaign Scheduler, and Multiple Admins.
Network (US$ 477/mth) – 20M Tracking Requests, With Everything in Ultimate, Plus Multiple Merchant Accounts, Merchant Signup Page, Prepaid Network Account, Membership Manager, Audit Logs, Smartlinks, and White Label.
14-Days Free Trial


The second affiliate marketing platform in our list to be based in Lithuania. RedTrack is founded in 2017. It currently has offices in Belarus, and Cyprus as well to service their customers in 107 countries. Despite its young age, RedTrack has been featured in many prominent medias such as Forbes, Yahoo!, Markets Insider, and many others. Additionally, they had also won several accolades in recognition of this quality software. Without further, scroll down and learn what this young software can do for you!
Key Features
Cookieless Tracking
Includes Advertisement Tracking
100+ Ready Integrations to Popular Affiliate & Advertising Networks
Mobile App Version for Merchants too
Buy Factor
Most affiliate marketing platforms that you come across tracks cookie to determine attribution. With the current onset of personal data regulation, the collection of cookies had become challenging. Hence without cookie, these affiliate marketing platforms are not able to attribute any commissions to your affiliates at all. In fact, it cannot even track any details about the clicks, which undermines nearly all your affiliate marketing campaign efforts. RedTrack uses a cookieless tracking technology that tracks base on the user's browser information, IP, and some other device information. Then, it allocates a 'Click ID' to it. Doing so means greater tracking effectiveness, and hence, better rewarding your affiliates.
RedTrack is not just an affiliate management platforms. It can also integrate with Facebook Ads, Google Ads, and other affiliate progams to provide a clean all-in-one advertising management platform. As a marketer, you will love it because you can get everything done within one platform. Moreover, you get all the data and those otherwise not possible without these integrations. The outcome is deeper and fuller insights that help your advertising drive your bottom-line!
Again, integrations are so important for the contemporary marketers! That's because even the average office worker uses between 4-5 software in their work! An integrated platform would greatly improve efficiency by helping the marketer juggle their work between each software better! What more? Heard of this phrase, 'the whole is greater than the sum of its parts'? Likely than not, new features would be enabled due to these integrations, together with new data analytics.
Unlike others in this list, RedTrack's app version is for the merchant, not the affiliates. It acts as a portable version for users to work on-the-go, and quickly check campaign stats to answer the enquiring client. Simply useful!
Things to Note
The various plans include a number of clicks of 'events', which are basically ads tracking. Should the monthly allowance exceed, the tracking does not stop. Instead, any additional are automatically calculated and charged for every 1k clicks.
The publisher and advertiser management features are only included in Team plans and above. They include functions to create custom payouts to affiliates, and track and manage them. There are no limits to the number of affiliates in each account. Although useful feature such as Publisher Discovery, which allow users to find new publishers is only included in Agency plan onwards.
Pricing (annual subscription basis)
Basic (US$ 41/mth) – 1M Clicks, Unlimited Campaigns, Unlimited Conversions, and Tracking & Analytics.
Pro (US$ 83/mth) – Everything in Basic with 3M Clicks, Plus Conversion Optimisation, Advanced Analytics, and API.
Advanced (US$ 125/mth) – Everything in Pro with 6M Clicks, plus Track Multiple Accounts.
Team (US$ 209mth) – Same as Advanced with 10M Clicks, plus Total 3 Users, Advanced Tracking, and White Label.
Agency (US$ 375/mth) – Same as Team with 25M Clicks and Total 6 Users, plus Multiple Publisher Portals, and Publisher Discovery.
Enterprise (US$ 933) – Same as Agency with 75M Clicks and Total 26 Users, plus Advanced Attribution Tracking & Analytics.
14-Days Free Trial
The youngest affiliate marketing platform in our list with a little more than 2 years in the business! Yet, Scaleo is definitely not your next-door software. The Czech company is driven by their values in customer-centric, data security and latest technology. With Scaleo, they "guarantee" 'the simplest way to track, analyze and optimize your affiliate business', backed by near perfect uptime with 99.99% reliability. Their quality in software and commitment has seen them won awards by SoftwareWorld, SoftwareSuggest, and FinancesOnline. Again, we say don't skip this one. It is too good to miss out!
Key Features
Over 10+ Affiliate Targeting Metrics
AI-Powered Optimisation
In-Depth Statistics
In-Built Anti-Fraud Logic™
Buy Factor
Again, affiliate marketing platforms that help their users grow their affiliate base is definitely worth knowing. Scaleo offers more than 10 affiliate targeting metrics to help their users find their model affiliate, which contributes value all the way back the chain. Use from metrics such as geolocation, device type, browser, and language to optimise your recruitment campaigns!
Well, you can set the affiliate targeting metrics to automate recruitment. Scaleo also provides smart traffic redirection based on cookieless tracking, which results in greater accuracy and lesser loss when monetising clicks. Besides, Scaleo's AI-system is capable of self-monitoring, allowing it to provide tips to improve your campaigns every now and then. You can imagine the AI to be like your guide, who will fill you in every time he spots a gap!
More than 30 data breakdowns from 50+ data points! What do you expect from one of the most popular affiliate marketing platforms around! For instances, CTR of impressions, gross clicks, revenue clicks, total conversions margin, fraud score etc. All these will power your data-driven decisions and drive your future campaigns via hard analytics! So, it's a good step and an important one towards a data culture!
The trademarked anti-fraud technology by Scaleo, Anti-Fraud Logic™, analyses its system for fraud from data such as IP, ISP, traffic source and cookies. The results are visualised as a score from 0 to 100 to the users. Then, the user can decide to reject the lead or any other further actions. The results are fully cleaned campaigns, without the hassle of chasing fake affiliates! Or worse, paying them without seeing actual promotional activities from them!
Things to Note
There is no mobile app version for affiliates or the merchant users.
The starting price point for a plan is rather high although the plan offers a decent package for affiliate marketing. Similar to other platforms except that it caps based on the number of conversions per month, with any excess charged at every 1k. Costs will add up quickly, and if it may be more value to upgrade to the next plan, do so!
Pricing (annual subscription basis)
Professional (US$ 239/mth) – 10k Conversions, Unlimited Clicks, Core Features, and Anti-Fraud. Custom Domain with SSL, Email & Chat Support, Automations and White Label.
Enterprise (US$ 399/mth) – Everything in Professional with 40k Conversions, plus Lead Management, Account Manager, and Product Training.
Custom (fr US$ 799/mth) – Everything in Enterprise Above 90k Conversions, plus Any On-Demand Features.
14-Days Free Trial
Serving over hundreds of affiliate marketers, Voluum is founded in 2014 in Krakow, Poland. They tracked over 500m events on a daily basis, supported by their 76 employees. Not to mention, their powerful platform, hosted on robust infrastructures, had seen them enjoy a straight 2061 days of continuous uptime! That is more than 5 years! Furthermore, with backing from CentralNic Group, an UK internet services holding company, and Codewise, an adtech company, Voluum continues to innovate and inspire affiliate marketers worldwide! Don't miss this last one in our list!
Key Features
AI-Powered Traffic Distribution (Traffic Plan & Above)
Anti-Fraud Kit
Mobile App Version to Support Ad Tracking
Loyalty Program
Buy Factor
Voluum's smart AI analyses your promotion and other factors to automatically directs traffic it deems best for your campaigns. All users need to do is 'flip the switch', and they can start seeing results. Alternatively, they can also adjust the AI's settings if preferred. All it takes is a few seconds, and users can see potentially higher ROIs!
Similar to other affiliate marketing platforms in our list, Voluum has its own anti-fraud system. This special kit is capable of detecting and analysing clicks from bots to apply protection. Henceforth, no further investment in other anti-fraud systems is required. Likewise, no more losing money to fraud while protecting and driving max value to your affiliate publishers.
Work from home or in the café. Whichever you choose, Voluum's mobile app can work for your android and apple-powered device. Use it to quickly monitor your campaigns, access reports to answer to your boss or clients, or make changes where needed. The app is also capable of notifying you in certain events, such as first conversion, hitting a campaign's revenue target, or reaching overages. Whatever, the app version will surely be the productivity boost you seek to better service your client and performance!
The only one in our list to actually reward their users with loyalty program! Take note again it's for you, the users, not your affiliates. Every payment to Voluum allows you to collect points which are redeemable for Voluum's services. You can accumulate points to redeem for SSL domains, 3D reports, AI traffic distribution, and many more! In time to come, you can also redeem for Amazon gift vouchers. Aren't this too good to be true?
Things to Note
Overage charges applies when the number of events included in the plan is exceeded.
The use of Automizer to integrate Voluum with other traffic generating integration such as Facebook is free for monthly ad spent up to US$ 1k. Beyond this amount, a monthly fee plus overages applies. For your information, the automizer is definitely a useful feature. It provides rule settings to create automations, and sends alerts on events.
Pricing (annual subscription basis)
Discover (US$ 69/mth) – 40 Campaigns, 1M Events, 1 Custom Domain, and 3 Months Data Retention. Automizer, Group Onboarding, and Basic Tracking.
Profit (US$ 119/mth) – Unlimited Campaigns, 3M Events, 3 Custom Domains, and 6 Months Data Retention. Everything in Discover, plus AI-Traffic Distribution, and Rule-Based Paths.
Grow (US$ 349/mth) – Everything in Profit, with 10M Events, 5 Custom Domains, and 12 Months Data Retention. Plus Anti-Fraud, and Additional Users.
Final Comments
As you may have realised, choosing an affiliate marketing platform is more challenging than thought. It is not a matter of choosing the one which offers more for less. Instead, the best one is one that offers sufficient features at a price that would fit your marketing strategies overall. You may not like AI, or you may not need ad tracking. You may also need certain features, but you just don't clock enough events to make it worthwhile going for the higher plan. Nonetheless, the least you could do is try a demo and play around with the interface. Then from there, consider strategizing with your overall marketing objectives. Lots of commitment required, but it will be worth it! Trust us!

Activities
Which 3 features do you think make affiliate marketing platforms stand out? Share with a COMMENT below.
LIKE & SHARE with the world of marketing, affiliate or not!
HASHTAG #DonutAtwork
Here is our article on the Best Affiliate Programs.
For your reading pleasure, try these tags next: e-Commerce, Marketing, Payment